The Students Exchange Program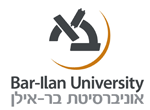 Welcome to the site of the Student Exchange Program where you will find information about coming on an exchange to Bar Ilan University (BIU) Law Faculty, one of the top Law Faculties in Israel.
We invite you to spend a semester studying at our excellent Law Faculty BIU, where you will gain exposure to the Israeli culture and legal environment and connect with students from Israel and from all around the world.
Each year, the BIU Law welcomes a selected number of highly - qualified law students from its partner institutions abroad. Currently, our partner institutions include the following law schools:  Florida, Osgoode Hall Law School, University of Connecticut, Bucerius, Monash, University of Hong Kong, and more.
We offer a variety of law courses in English, taught by permanent faculty members, all experienced in teaching courses in leading universities abroad. In addition, the Faculty offers a variety of concentrated and intensive courses taught in English by visiting professors, from leading universities abroad. Students must demonstrate the required level of proficiency in English to participate in the program.
We invite you to join us for a life time experience!