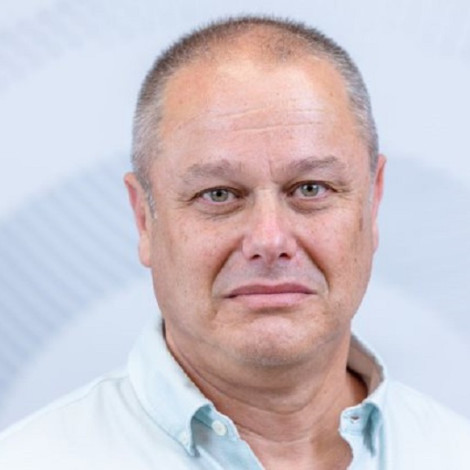 Prof. Gideon Sapir
Email
Gideon.Sapir@biu.ac.il
Office
Building 306, Room 302
Reception Hours
Meetings should be coordinated in advance
Short Biography

Short Biography

Prof. Gideon Sapir received his law degree from Bar-Ilan University, an LL.M. and S.J.D. from Northwestern University, and Rabbinic Degree from the Israeli Chief Rabbinate. His teaching and research areas of interest are constitutional law (with concentration on religion and state) and constitutional theory.

Professor Sapir has been a visiting professor and scholar at Northwestern, Emory, Monash and University of Toronto. He is also a Senior Fellow at the Kohelet Policy Forum and a Senior Fellow at the Center for the Study of Law and Religion at Emory Law School. In addition, Sapir currently serves as the Editor in Chief of the Journal of Law, Religion & State.

Among his many publications are dozens of articles in major law reviews and several books, in Hebrew and English. His two latest books are Israeli Constitution: From Evolution to Revolution (Oxford U. Press, 2018) and State and Religion in Israel: Pilosophical-Legal Inquiry (Cambridge U. Press, 2019) (with Daniel Statman.

In addition to his academic work, Prof. Sapir is involved in social causes. In this capacity, he is the founder of two legal clinics, under the auspices of Bar-Ilan Law Faculty: Disability Rights Clinic and Elderly Rights Clinic.
Research Interests and Teaching

Research

constitutional law (with a concentration on religion and state) and constitutional theory.
Publications

Publications

HEBREW

BOOKS

Religion and State – A Philosophical-Legal Inquiry (2014) (with Daniel Statman)

Constitutional Revolution in Israel - Past, Present & Future (2010)

Essays in Honour of Izhak Englard (D. Barak-Erez & G. Sapir eds.) (2009)

 

ARTICLES

 

The Western Wall Controversy, 33

Bar-Ilan Law Studies

(2020)
Halachic Perspective on Legislating Religion: The Rabbinic Controversy regarding the Sabbath Law of 1961 as a Test Case, 32 Bar-Ilan Law Studies (forthcoming 2019) (with David Aronovsky)
"And Call the Sabbath a Delight" – Work, Trade and Leisure in the Sabbath in Israel - 1948-2016, 31 Bar-Ilan Law Studies 583 (2018)
Halacha and Meta-Halacha in Halachic Authorities' Approach Regarding Security Forces Activity on Sabbath, 29 Shnaton Ha-Mishpat Ha-Ivri 1 (2018) (with David Aronovski)
Halachic Authorities' Approach Regarding Security Forces Activity on Sabbath, 31 Dinei Israel 197 (2017) (with David Aronovski)
Popular Constitutionalism, 30 Bar-Ilan Law Studies 161 (2016) (with Shaul Sharf)
In The Wake of the Immanuel Affair: Would it not be Better for Religion to Detach Itself from the State? 15 Democratic Culture 217 (2013) (With Daniel Statman)
On the Right to a Nation-State, 36 Tel-Aviv University Law Review 507 (2013) (with Aviad Bakshi)
Minority Religions in Israel, 28 Bar-Ilan Law Studies 185 (2013) (with Daniel Statman)
Justifications of the Duty to Make Employment Adjustments for People with Disabilities, 13 Haifa University Law Review 411 (2011)
Book Review - Between Liberalism and Multiculturalism, 26 Bar-Ilan Law Studies 311 (2010)
Is a liberal State permitted to Act on the Basis of religious Arguments 25 Bar-Ilan Law Studies 599 (2009) (With Daniel Statman)
Nondelegation, 32 Tel-aviv University Law Review 5 (2009)
Book Review: Outlawed Pigs, 11 Haifa University Law Review 611 (2008)
The Israeli Constitutional Revolution - How did it Happen? 11 Haifa University Law Review 571 (2008)
Three Models of Constitutionalism, 37 Hebrew University Law Review 349 (2007)
Jewish Religious Services Law-A Proposed Framework for Privatization Reform, 23 Bar-Ilan L.Stud. 117 (2006) (with Hadar Lifshits)
Old v. New: Vertical Balance and Proportionality, 22 Bar-Ilan L. Stud. 471 (2006)
Who Shall Decide Who Is a Jew? On the Proper Role of the Judiciary in a Democratic State, 22 Bar-Ilan L. Stud. 269 (2006) (with Shachar Lifshits)
The Limits of Establishment of Religion, 8 Haifa University Law Review 155 (2005)
Freedom of Religion, Freedom from Religion and the Protection of Religious Feelings, 21 Bar-lan L. Stud. 5 (2004) (with Daniel Statman)
The Constitutional Judicial Proceeding as a Political Proceeding, 19 Bar-Ilan L. Stud. 461 (2003)
Two Learned Scholars among Us, 25 Tel-Aviv U. L. Rev.189 (2001)
Drafting Yeshiva Students in Israel: A Proposed Framework of the Relevant Normative Considerations, 9 Plilim 217 (2001)

 

BOOK CHAPTERS

 

Social Rights,

Yaakov Neeman Memorial Book

(A. Barak et al.

eds.) (forthcoming 2021)

Balancing and Proportionality,

Essays in Honor of Eliezer Rivlin

(A. Barak et al.

eds.) (forthcoming 2021) (Hebrew)

On the History and Development of Roads closure on the Sabbath, Yaakov Weinroth Memorial Book (H. Zicherman at all, eds.) (forthcoming 2020)
Prison Privatization, Essays in Honor of Dorit Beinisch (I. Bar-Siman-Tov ed. 2018) 275
Is the Law of Return (Still) Justified? Edmond Levi Memorial Book (E. Hayut, E. Rubinstein, I. Amit & E. Gordon eds. 2017) 279
Professor Englard and Justice Englard - Complition or Contradiction? Essays in Honor of Izhak Englard (D. Barak-Erez and G. Sapir eds. 2009) 305
Proportionality and Compromise, Dorner Book (S. Almog ed. 2009) 397

 

ENGLISH

BOOKS

 

State and Religion in Israel: Philosophical-Legal Inquiry (Cambridge U. Press, 2019) (with Daniel Statman)

The Israeli Constitution: From Evolution to Revolution (Oxford U. Press, 2018)

Israeli Constitutional Law in the Making (G. Sapir, D. Barak-Erez & A. Barak eds., 2013)

 

ARTICLES

The Western Wall Controversey, 9 Journal of Law, Religion and State 124 (2021).
Law, Religion, and Immigration; Building Bridges with Express Lanes, 32 Emory International Law Review 201 (2018) (with Mark Goldfeder)
The Protection of Holly Places, 10 Law & Ethics of Human Rights 135 (2016) (with Daniel Statman)
Non-Jewish Religions in Israel, 30 Journal of Law & Religion 65 (2015) (with Daniel Statman)
Religious Arguments in the Public Sphere vs. the Freedom from Religion, 3 Law, Religion & State 242 (2013) (With Daniel Statman)
Popular Constitutionalism - The Jewish Version, 7 Jerusalem Review of Legal Studies 49 (2013)
Constitutional Revolutions - Israel as a Case Study, 5 International Journal of Law in Context 355 (2010)
Religious Marriage in a Liberal State, 30 Cardozo L. Rev. (with Daniel Statman) (2009)
Book Review - Yakobson & Rubinstein: Israel and the Family of Nations, 11 Democratic Culture 295 (2007)
How Should a Court Deal with a Primary Question That the Legislator Seeks to Avoid? 39 Vanderbilt Journal of Transnational Law 1233 (2006)
Why Freedom of Religion does not Include Freedom from Religion, 24 Law and Philosophy 467 (2005) (with Daniel Statman)
Can an Orthodox Jew Participate in the Public Life of the State of Israel? 20 Shofar 85 (2002)
Law or Politics: Israeli Constitutional Adjudication as a Case Study, 6 UCLA J. of Int'l L. & Foreign Aff. 169 (2001)
Religion and State in Israel - The Case for Reevaluation and Constitutional Entrenchment, 22 Hastings Int'l & Comp. L. Rev. 617 (1999)
Religion and State - A Fresh Theoretical Start, 75 Notre Dame L. Rev. 579 (1999)

 

BOOK CHAPTERS

Popular Constitutionalism and Constitutional Dialogue, Deliberative Constitutionalism (Ron Levy et al eds.) Cambridge U. Press, (2018) 311
Religion and State in Israel, Oxford Bibliographies in Jewish Studies (N. Seidman Ed.) (2015)
Religious Marriage in a Liberal State, Constitutional Secularism in an Age of Religious Revival (M. Rosenfeld & S. Mancini eds., 2014) 269 (with Daniel Statman)
Israel as a Nation State in the Supreme Court Rulings, The Israeli Nation-State 164 (F. Oz- Salzberger and Y. Stern eds.) (2014) (with Aviad Bakshi)
Why a Constitution-in General and in Particular in the Israeli Context? Israeli Constitutiona Law in the Making (Gideon Sapir, Daphne Barak-Erez & Aharon Barak eds.) (2013) 9
A Jewish Nation-State: A Discussion in Light of the Family Reunification Case Israeli Constitutional Law in the Making 487 (Gideon Sapir, Daphne Barak-Erez & Aharon Barak eds. 2013) (with Aviad Bakshi)
Work in progress

Work in progress

Work in Progress

Books

The Ultra-Orthodoxy and the Supreme Court

(Gideon Sapir & Haim Zicherman eds.) (Hebrew)

Shabat in the public Sphere

(with

David Aronovsky)

(Hebrew)

Book Chapter

Judicial Activism in Israel – Is it Still Alive? The Ultra-Orthodoxy and the Supreme Court (Gideon Sapir & Haim Zicherman eds.) (Hebrew)
Last Updated Date : 14/07/2022