Dr. Marcowitz-Bitton Miriam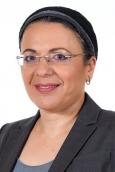 Email
miriam.bitton@biu.ac.il
Office
Building 306, Room 104
Reception Hours
Meetings should be coordinated in advance
CV

CV

Dr. Miriam Marcowitz-Bitton is a law professor at Bar-Ilan University School of Law in Israel. She received her Bachelor of Laws and Master of Laws degrees at Bar-Ilan University School of Law, as well as another Master of Laws and a Doctor of the Science of Law at the University of Michigan School of Law. A former Visiting Assistant Professor of Law at DePaul University College of Law, Miami University School of Law, and Ohio State University School of Law, she was also the Microsoft Research Fellow at U.C. Berkeley School of Law and a Visiting Fellow at George Washington University Law School. Dr. Bitton writes and teaches in the fields of intellectual property law, law and technology, and property. Her articles are published in major journals in Israel, the U.S. and Europe. She is the winner of the prestigious Alon Fellowship for the years 2009-2011 (granted by the Council of Higher Education in Israel to promising junior faculty members in Israel), the 100,000 EUROs Marie Curie International Reintegration Grant (granted by the European Union Commission), and the Zeltner Award for Junior Legal Scholars granted annually to one junior promising legal scholar in Israel by the Rotary Foundation and Tel Aviv University Faculty of Law (2013). Dr. Bitton's current research agenda is focused on Israeli and American patent law and criminal enforcement of intellectual property law.

 
Research Interests and Teaching

Research

.Law and Technology, Intellectual Property Law, Property
Publications

Publications

 

1. Feist, Facts and Functions: Historical Perspective, in "Intellectual Property Protection of Fact-Based Works: Copyright and Its Alternatives" (Robert Brauneis Editor) (2009). 

2. Exploring European Union Copyright Policy Through the Lens of the Database Directive, 23 Berkeley Technology Law Journal 1411 (2008). 

3. Trends in Protection for Informational Works Under Copyright Law During the 19th and 20th Centuries, 13 Michigan Telecommunication & Technology Law Review 115 (2007). 

4. Grokking Grokster: Has the Supreme Court Changed Inducement under Patent Law?, 34 AIPLA Quarterly Journal 265 (2006) (with Gary N. Frischling).

5. A New Outlook on the Economic Dimension of the Database Protection Debate, 47 IDEA: The Intellectual Property Law Review 93 (2006). 

6. Protection for Informational Works After Feist Publications Inc. v. Rural Telephone Service, 21 Fordham Intellectual Property, Media & Entertainment Law Journal 611 (2011). 

7. Modernizing Copyright Law, 20 Texas Intellectual Property Law Journal 65 (2011). 

8. Rethinking the Anti-Counterfeiting Trade Agreement Criminal Copyright Measures, 102 Journal of Criminal Law and Criminology 101 (2011). 

9. Implementing the Public Sector Information Directive, [2012] 2 European Intellectual Property Review 74 (2012). 

10. Exploring the Standard of Review of Transactions with Controlling Shareholders After In re MFW Shareholders Litigation, Pepperdine University's Journal of Business Entrepreneurship & the Law (2013) (with Odelia Minnes). 

11. Patenting Abstractions 15 N.C. J.L. & Tech. 153 (2014), available at http://ncjolt.org/wp-content/uploads/2014/01/Bitton_Final.pdf.

12. Examining the Trans-Pacific Partnership Agreement, Journal of Internet Law, March 2014, page 25-38. 

13. Criminal Enforcement of Copyrights (Bar-Ilan Legal Studies Law Review, 2013). 

14. Book Chapter: Criminal Enforcement of Copyrights in Israel (in Intellectual Property Law: Interdisciplinary Analysis, in Hebrew) (2015). 

15. Database Protection in Israel (Moznei Mishpat; in Hebrew, 2014). 

16. Intellectual Property Securitization, 32 Cardozo's Arts & Entertainment Law Journal (with Dov Solomon) (2014). 

17. Commercializing Public Sector Information, Journal of the Patent and Trademark Office (forthcoming 2015); reprinted as a book chapter in Beyond IP, Shlomit Yaniski-Ravid ed.) (forthcoming 2015-16). 

18. Law of the Book: Exploring the Israeli Act for the Protection of Literature and Authors as a Case Study (with Jacob Nussim) ) Bar-Ilan Legal Studies Law Review, forthcoming, 2016; in Hebrew). 

19. Intellectual Property Law: Interdisciplinary Analysis, Co-Editor, Book (with Lior Zemer) (Nevo Publishing, 2015; in Hebrew).